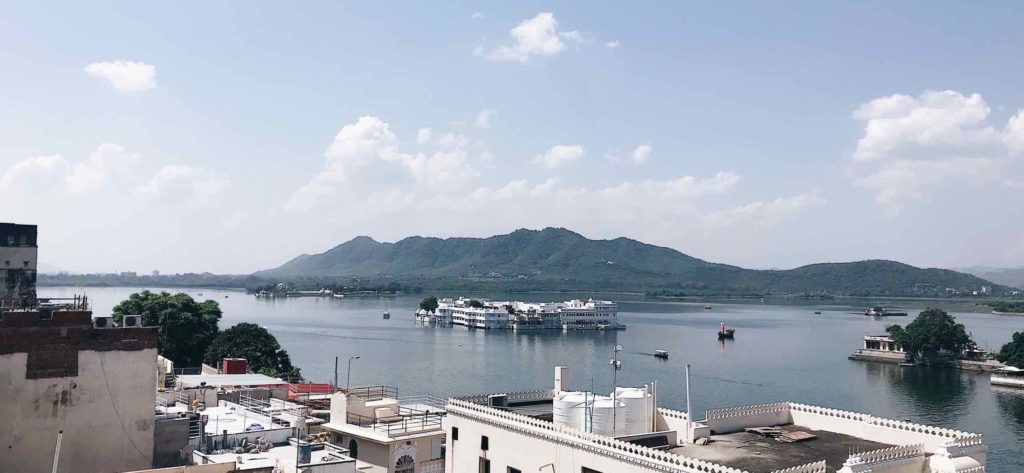 Udaipur! The City of Lakes and the official Venice of India. It can be hard to decide what to do in Udaipur when you only have a couple of days!
I've been to Udaipur 2 times and both times were just for 2 days and 1 night. I've compiled together a list of what to do in Udaipur in just 2 days.
There is a lot to see and do in Udaipur and you will feel quite busy but it is easy to fit in all of the main sites and attractions in 2 days. You'll have plenty of time to soak in the royal vibes of the City of Lakes.
In between running around site seeing make sure you take some time to wander through the incredible streets along the lake near the city palace. Find all the beautiful nooks and crannies and get lost in one of the most beautiful places in India!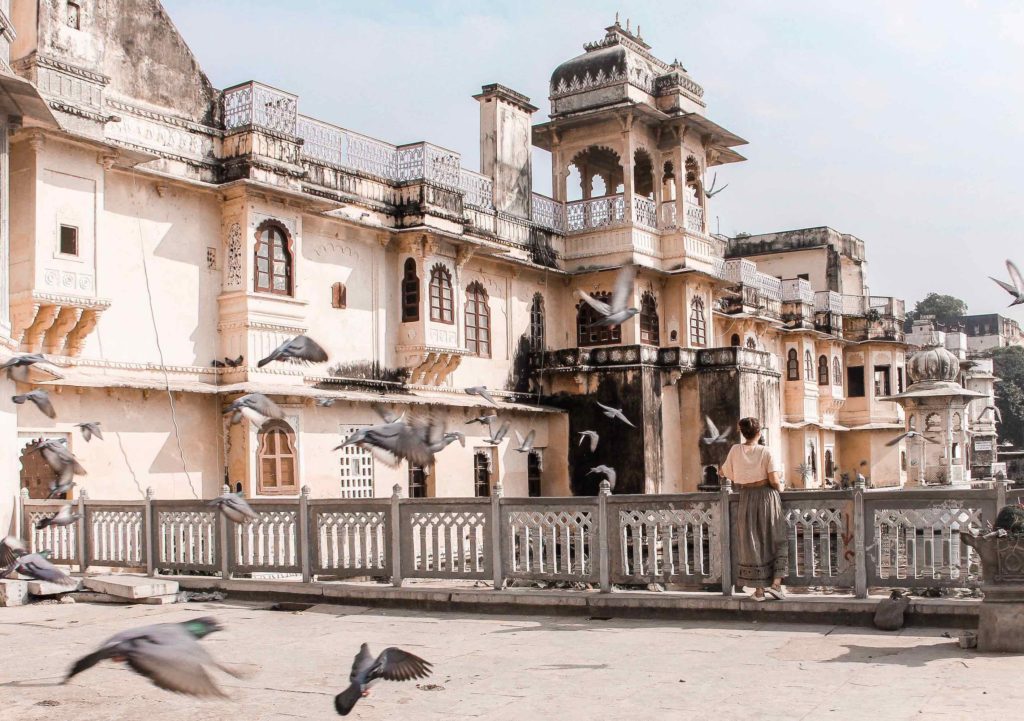 1. Visit The City Palace
Visiting the City Palace is an absolute must when you're in Udaipur!
It is SO beautiful! Get there as early as you can to avoid the crowds. You will want to take 10,000 photos and you don't want too many tourists in the way!
This city palace is kept beautifully with grand gardens, intricately detailed architecture and stunning interiors in countless rooms.
It is colourful and extremely elegant.
Entrance is just 300 rupees and it is open from 9.30am – 5.30pm.
Bonus: This city palace is very professionally run. We didn't get hassled by touts trying to sell us souvenirs or by tour guides once we were inside.
2. Take A Boat Ride To Jagamandir Palace
Jagamandir Palace is an island on Lake Pichola. If you're like me and don't have a spare $1000 to spend on a room at the famous Taj Lake Palace this is the next best thing!
You can get a boat ride from the City Palace every hour to the palace and return when you're ready. Boats are constantly coming and going.
The scenic boat ride is relaxing and has amazing views of Lake Pichola and the surrounding buildings. The palace itself is really beautiful and has lovely gardens to walk around. You can even enjoy some icy cold overpriced Kingfisher overlooking the lake.
Tickets can be purchased from the same area you get tickets to the City Palace from. The price was somewhere around 500 rupees per person and 700 rupees after 3pm for sunset.
You also have to pay 30 rupees or so to be able to walk around the grounds of The City Palace.
I combined the City Palace and the Jagamandir Palace at the same time. We ended up having to run through the city palace to get to the boat on time! Give yourself plenty of time for the City Palace otherwise visit the city palace afterwards if time permits.
3. Eat And Drink Like Royalty
If you're a bit boujee and have a luxurious experience in India, Udaipur is the place. This is particularly relevant if you've been travelling around India and roughing it for a long period of time! The luxuries in Udaipur are a breath of fresh lake air.
There are SO many amazing luxury boutique palaces turned hotels and guesthouses on and around Lake Pichola. You can either splash out and stay at one of these places or just go for a drink and food.
Jagat Niwas Palace
My favourite spot hands down is Jagat Niwas Palace. It is set right on the lake with the most beautiful seating area and gardens with views to die for. All your Udaipur Instagram dreams will come true!
This palace has been in the same family for generations. The owners were lounging around enjoying their incredible palace decked out in Chanel and Gucci. They were more than happy to let us pet their dog and share the history of their hotel with us.
The service here was impeccable and the best part is their prices weren't anywhere near exorbitant. They were really affordable especially considering the scene! I recommend setting aside a good couple of hours to enjoy your time here. Better yet set aside 2 blocks of time, because you will want to go back!
Lake Pichola Hotel
Lake Pichola Hotel is another really nice place to go and feel like royalty.
It is a large hotel right on the lake. One of the things I love about this place is that you can go for breakfast, lunch and dinner. Enjoy the ground floor restaurant for breakfast and the beautiful rooftop for drinks, lunch and dinner.
The interiors of this place are truly inspired by Rajasthani Palaces and it feels very luxe. Think high windows & drapes, antique chairs, chandeliers, crisp white carved marble and intricately tiled ceilings.
You can enjoy their buffet breakfast for 500 rupees or order off their Alacarte menu.
The prices at Lake Pichola Hotel are a bit steeper than Jagat Niwas but nothing crazy and it definitely has the WOW factor.
4. Take A Stroll To Ambrai Ghat
Ambrai Ghat is on the other side of the beautiful 'Venice' bridges. Take a stroll across the bridge and turn left once you reach a road and continue past the Hanuman Ghat. Continue following the footpath until you find yourself at the Ambrai Ghat on the water.
This ghat is so beautiful! not only is the walk there so nice passing through some incredible palaces, but this spot has some of the best views of the City Palace, The Taj Lake Palace and the mountains. It gives you a panoramic view of Lake Pichola!
There are lots of stairs to sit on and cool street art to look at. If you have an extra night you can come here for a really chilled sunset.
The Ambrai Ghat is very close to Lake Pichola Hotel so you can combine these two activities at the same time.
If you're on a budget wondering what to do in Udaipur that is free then this is it!
5. Go On A Gondola Ride Up To Shri Manshapuma Temple For Sunset
One of my favourite sunset spots in all of Rajasthan is from this temple so it is a must to fit in during your 2 days in Udaipur. You can take a quick gondola ride up to the temple for a small fee (always count your change- the ticket officers are rip-offs!).
Once you reach the top walk along the pathway to the right where you can enjoy panoramic views of the Lakes and the rest of the city. Keep going until you reach the first viewpoint of the lakes with the beautiful pink Rajasthani pointed barriers.
Continue along the pathway until you reach the temple, which is still under construction! Here you can walk out onto the balcony and enjoy the sweeping views of the lakes and layers of hazy mountains. You can even see the Monsoon Palace high on a mountain from here. Enjoy the sky turning red to pink and the incredible reflections from the water.
I did see there was a path that goes up there but I've always just caught the gondola which is handy when you are limited on time!
6. Visit The Royal Centopaths
The Royal Centopaths are the Tombs build for the Kings or Maharajas of that city.
There are Royal Tombs in every city in Rajasthan and I highly recommend visiting the Royal Tombs in each city you visit. They are incredibly beautiful, I mean the Taj Mahal is a royal tomb! When you visit these tombs you will feel like you have truly witnessed the best of Rajasthani Royal Architecture.
Another amazing thing about the Royal Tombs is that they are usually free or very cheap to enter and not many people seem to go as they are usually located just outside of the main city.
The Royal Tombs in Udaipur are some of the largest and most elaborate. They are sadly also not very well kept or maintained. They are located at the Ahar Museum, which you can search on google maps to find the location.
It's a bit confusing finding the right entrance that lets you into where the tombs are. There is a gated entrance off the main road on the side which may be locked when you arrive, some 'guards' will be nearby to let you in.
There are no tickets to get in but they will ask for money for permission for you to take pictures! I recommend paying them otherwise they will chase you around and try and take your devices! Also, take your shoes off when you are walking on the tombs.
Take your time grounds, the overgrowth of plants, flowing rivers and never-ending tombs and you will see why this is firmly on my list of what to do in Udaipur! This place is very remarkable and well worth the 15 minute drive from Lake Pichola!
7. Pig Out On Unlimited Rajasthani Thali At Natraj hotel
Rajasthan is famous for its food. Think lots of oil, sugar, heavy spice and salt! It's not for the faint-hearted but it is so incredibly delicious you have to try to indulge especially when you are in Rajasthan!
One of the specialities in Rajasthan is the unlimited Rajasthani Thali and one of the best places to enjoy this meal is at the Natraj Hotel in Udaipur.
Now, this restaurant is local and in the hectic main town of Udaipur away from the lakes and shiny palaces. You'll be dining alongside hoards of hungry locals!
For about 250 rupees you can get unlimited portions of multiple curries, vegetable sides, chapati, rice and fried bread. As soon as you sit down someone will come and put down a big plate and lots of little bowls on top (all stainless steel of course). Multiple men will then start coming around and fill up your bowls with all of the food!
They will keep coming around and filling up your bowls until you beg them to stop!! They serve lunch and dinner.
Do yourself a favour and try this out, even if your tum is a bit upset afterwards its all worth it!
Since this is away from Lake Pichola and close to the Ahar Museum, it's a great idea to do this after you visit the Royal Tombs.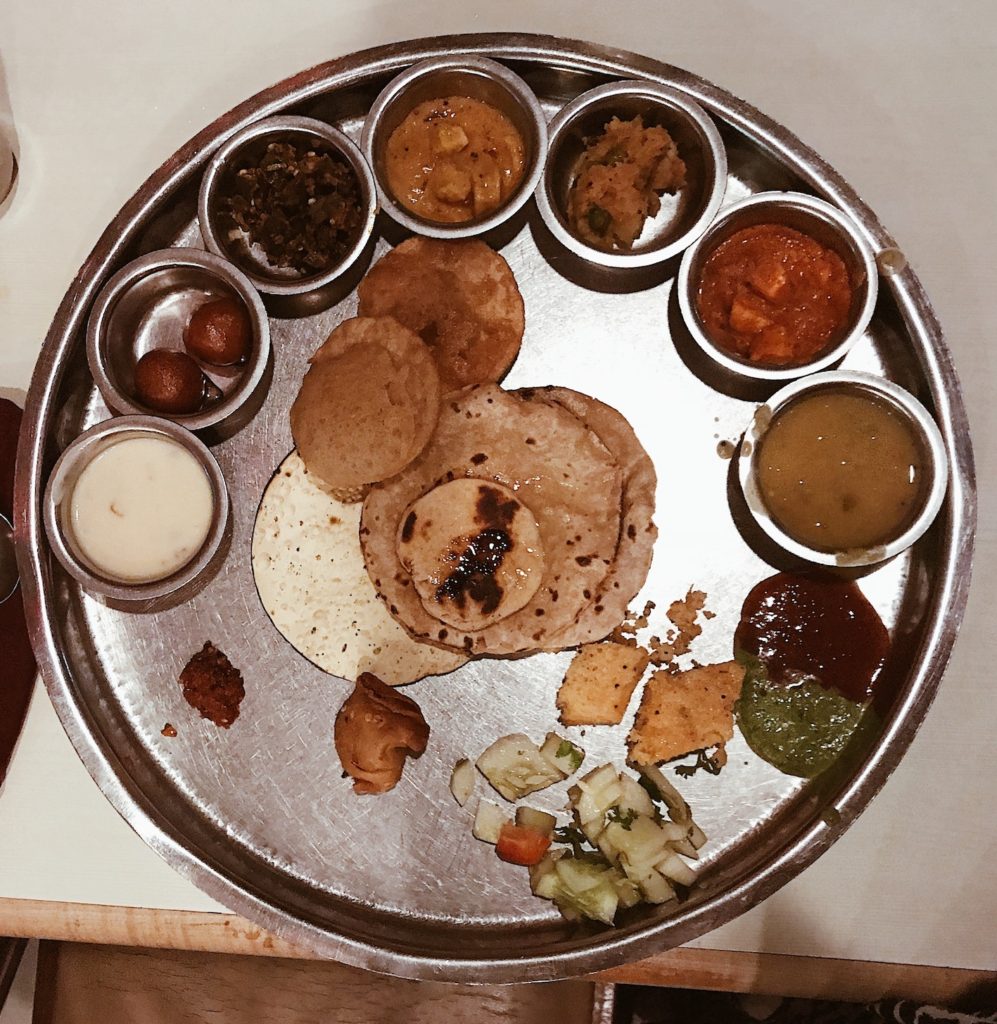 8. Enjoy An Evening At A Rooftop Cafe
There are countless rooftop restaurants and cafes in Udaipur where you can perch yourself for the evening with a drink and some food to watch the sun go down. Pretty much every hostel and hotel will have a rooftop cafe for you to enjoy as well!
I stayed at Bunkyard Hostel and their rooftop cafe is worth going to even if you aren't staying there! I visited another rooftop cafe a number of times when I was there but it isn't on Google Maps and I have no idea what the name is… but it is up some bright colour stairs labelled with food dishes right behind a fruit juice stall. Refer to black circle on my the map for the exact location!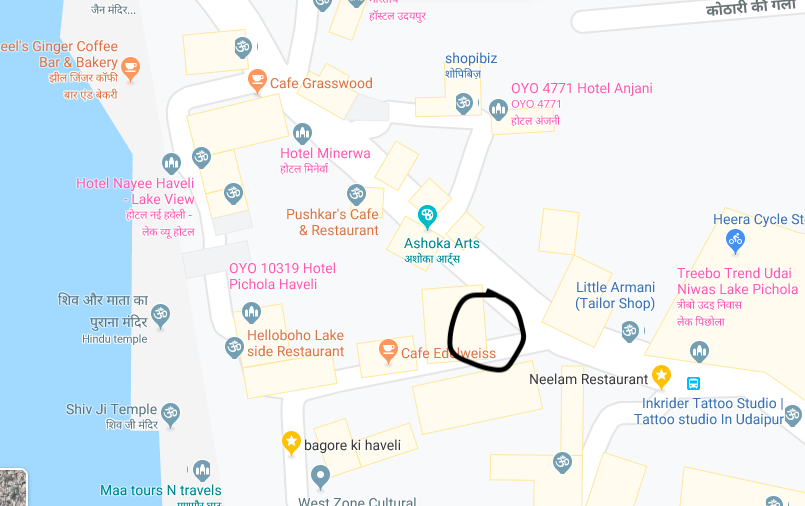 Yummy Yoga is also another good rooftop spot to enjoy a meal! Some of the rooftop cafes have a poor standard of food so make sure you ask for a personal recommendation from people in Udaipur on where to go!
What To Do In Udaipur: Tips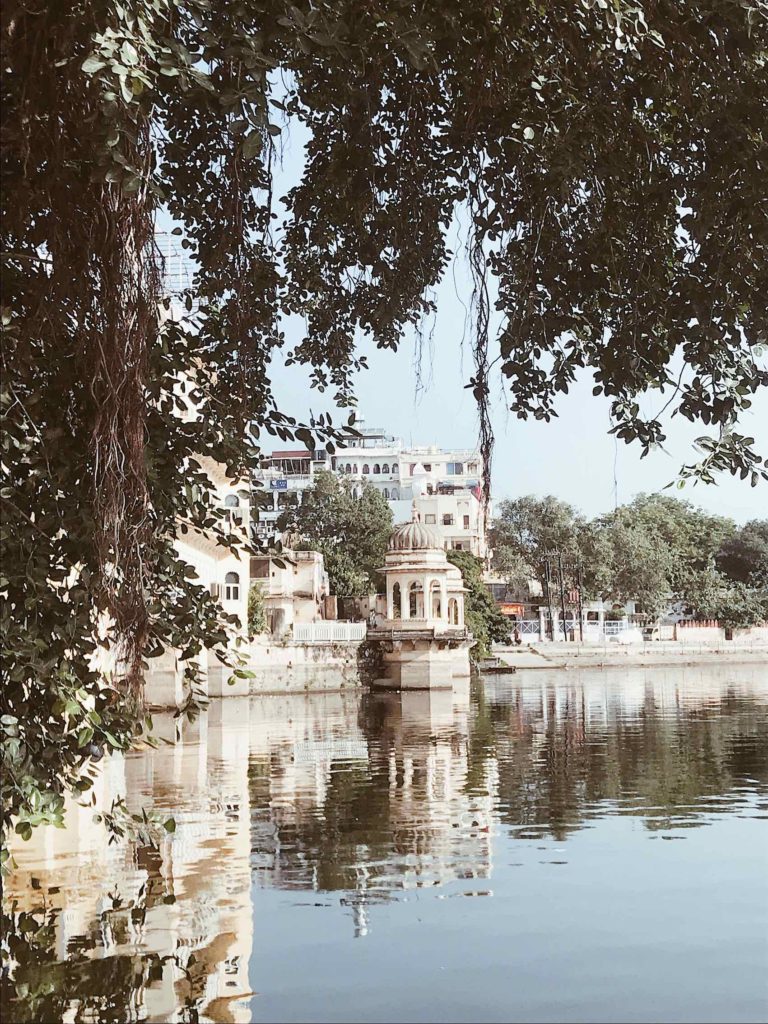 How To Get There
You can fly, bus, train or taxi into Udaipur. It is very well connected to all of Rajasthan, Delhi and Agra. Use Redbus to check for private bus routes and book train tickets with an agent in advance! There is an airport in Udaipur as well making it simple to get to.
Catch an Uber, Ola or taxi long distances in India is very affordable so this is another option for comfort and convenience if you have the budget!
The cheapest option by a million miles is local buses where you can just go to the public bus stand to by tickets however this is also by far the most uncomfortable. It is always a memorable experience if you're up for it!
How To Get Around
It is easy to get around Udaipur by tuk-tuk and Uber. But just note that Uber is restricted from picking you up and dropping you off in the main touristy part around Lake Pichola. The options are to either walk or pay a premium for a tuk-tuk.
It is also easy and cheap to hire scooters in Udapir if you are experienced and confident on Indian roads.
Keep in mind that the traffic in Udaipur can get horrendous due to big cars and narrow roads. Factor this in when you are needing to get to a bus or train!
Withdrawing cash in Udaipur
Like most places in India withdrawing cash can be a nightmare in Udaipur! There are a couple of SBI ATMs close to Lake Pichola and the City Palace. However, I've found these ATMs no longer work with my international card (Mastercard). The most reliable and convenient ATM for me in Udaipur is the Indusland ATM near Lake Pichola.
ATMs usually limit each withdrawal to 10,000 rupees ($140).
A lot of hotels, shops and restaurants in Udaipur are more high end so they will accept international credit and travel cards. However, the cheaper guesthouses and local cafes will only accept cash.
Get a prepaid travel card
Get a prepaid travel card before you go and save money on the exchange rate and ATM fees. If you are in the UK, Europe or Australia I recommend Revolut. You can open an app-based account in minutes. Hold and exchange 29 different currencies and spend anywhere with no fees in over 150 countries with a contactless MasterCard or Visa. I have used their online account and prepaid MasterCard for over three years and I love it. I have saved a fortune on fees.
You get £200 of free ATM withdrawals a month (only 2% after that) and the exchange rate they give is the market rate
You also will get individual GBP and EUR IBANs auto-savings, cutting edge budgeting and analytics, which is so useful I even use Revolut for all my transactions at home when I am not travelling.
There is also a Premium plan which offers exclusive card designs, overseas medical insurance, £400 free monthly ATM and unlimited FX transfers.
Revolut has a 24/7 live chat in the app so if you have any issues someone is there to help you with your questions.
This post contains an affiliate link for Revolut. If you decide to purchase through these links, I receive a percentage of the sale at no additional cost to you
Now You Know What To Do In Udaipur in 2 Days!
So book those tickets and experience one of the most beautiful places in India that you will remember for a life time, even if it's just for 2 days!
Are you planning a trip to Rajasthan? Check out my other posts on Instagram spots in Jaipur and the top things to do in Pushkar!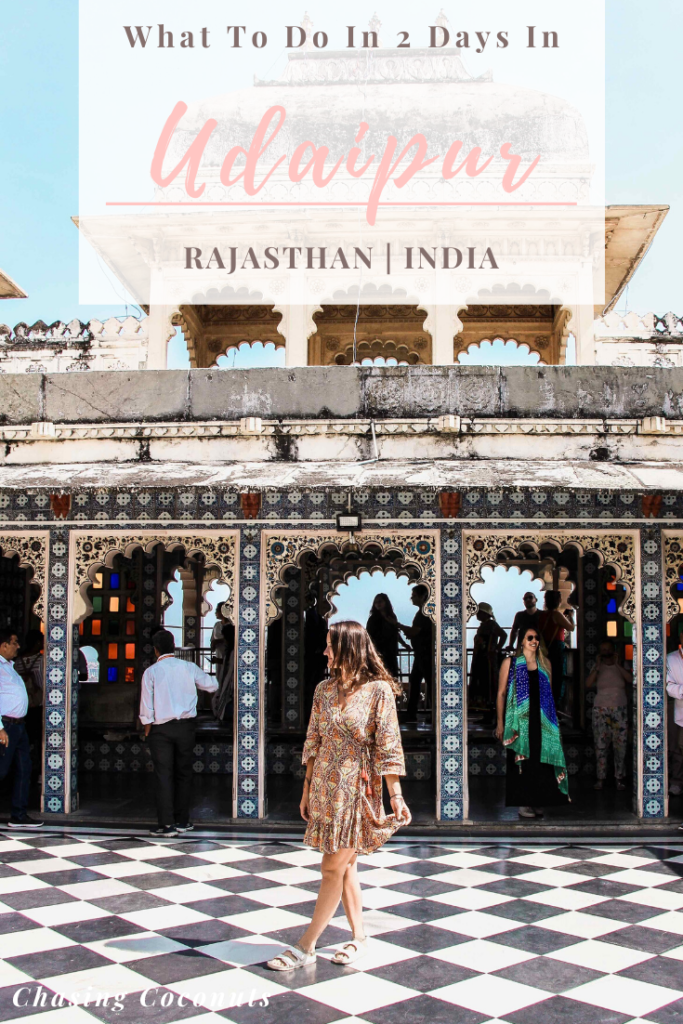 The post What To Do In Udaipur In 2 Days | Rajasthan, India appeared first on Chasing Coconuts Travel.