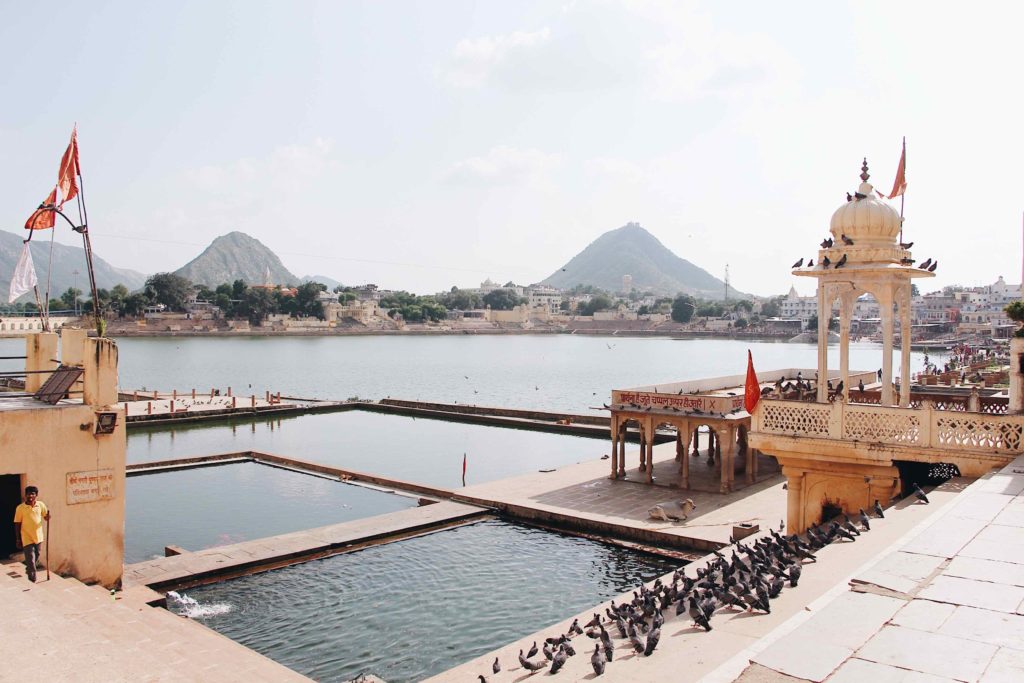 Are you trying to figure out the best things to do in Pushkar?
Pushkar is one of my favourite places in India, I've been so many times and even lived there for a couple of months at one point. Pushkar has a really special vibe.
It's a mix of textbook Indian culture, religion, colour and madness combined with a chilled out hippy scene where it's okay to sit around and smoke hash all day long for weeks on end. There is plenty to look at but also not much to do at the same time. This makes it the perfect place to do a bit of exploring and a lot of chilling.
I always say that Pushkar is the one place you can come and really be punched in the face with what you probably have pictured when you think of India. It is really small so much less intimidating than a huge city. There are plenty of travellers everywhere from around the world (*Israel*) and India.
Pushkar is on the Indian hippie trail and is usually a pit stop for people travelling from Goa to Himachal Pradesh in between the seasons. This means you will find a lot of wandering souls here and a lot of places to sit around and chill, not the mass tourist buses you see in Jaipur and Agra. There are also a lot of India tourists here as it is a holy city and a place of pilgrimage and worship.
All of these things combined make Pushkar such an amazing place to visit! If you are planning a trip to Rajasthan make sure you include Pushkar on your itinerary.
Here are my top 8 things to do in the holy city of Pushkar!
1. Walk Around Pushkar Lake
The first thing to do in Pushkar is to walk around the lake. Pushkar's main feature is the small holy lake that the town is set on. The lake is lined with ghats where people go to bathe and perform religious ceremonies.
It's fascinating to walk around and enjoy the views of the architecture, surrounding mountains and the living ancient culture.
It is also one of the best places to witness the sunset in Pushkar. There is a sunset point on one end of the lake where there are cafes, steps and chairs to sit on and watch the sun go down. There is always music, wandering cows, babas, gipsies trying to sell you henna and performing hippies! It's quite the spectacle and one of my favourite places to be at sunset in India.
There are a few things you need to beware of before heading down to the lake:
Take off your shoes when you get to the ghats (there are signs and people will tell you)
You're not supposed to take pictures at the lake and make sure you cover your shoulders and legs
There are scammers operating on the ghats where they give you flowers on the street and take you down to the lake. They will separate you from your friends, make you chant mantras (claiming to be holy men), then pressure and scare you into 'donating' huge sums of money to their temple. Literally they will make you chant 'I will make big donation to holy temple.' It happened to my parents in October 2019 so it is definitely a thing! They will scare you into thinking your blessings will be taken away or you'll be cursed if you don't! Moral of the story is DON'T ACCEPT FLOWERS FROM ANYONE!!
2. Wander The Streets & Take It All In
The second thing to do in Pushkar is to wander! Pushkar is a bit like a holy, hippie, clothing factory circus! There is literally never a dull moment. Think crowds, cows, dirt, dust, shit, beautiful bright saris, parades, giant frying pans of samosas, incense think in the air, ancient buildings, crumbling Rajasthani pillars and doorways, temples and endless shops.
There is all this and so much more jammed into this tiny town. There is so much to look at, it's an assault on your senses but in a nice small town kind of way not a Delhi kind of way!
When you go to Pushkar make sure you have at least half a day to just wander around the streets, get your bearings and take it all in.
3. Shop!
Pushkar is seriously the clothing factory capital of India so of course one of the best things to do in Pushkar is to shop til you drop. All the clothes you see in every market around the country probably came from Pushkar. There are so many shops which all have massive warehouses and factories to go along with them.
It is amazing if you're looking for some Indian or hippie attire for your traveller wardrobe. It is also very cheap and you can barter the price down even more. Pushkar is also a good place to buy silver and other cheap costume jewellery, incense, essential oils, crystals, bed ware and cushion covers and the list goes on.
Many people go to Pushkar purely for business to source clothing, fabrics and accessories to take home and sell for a huge markup.
It can be tricky to find suppliers that sell you high-quality products as it is so cheaply made often with weak fabric, bad stitching and cheap dyes that run so just be aware of that. Remember you get what you pay for!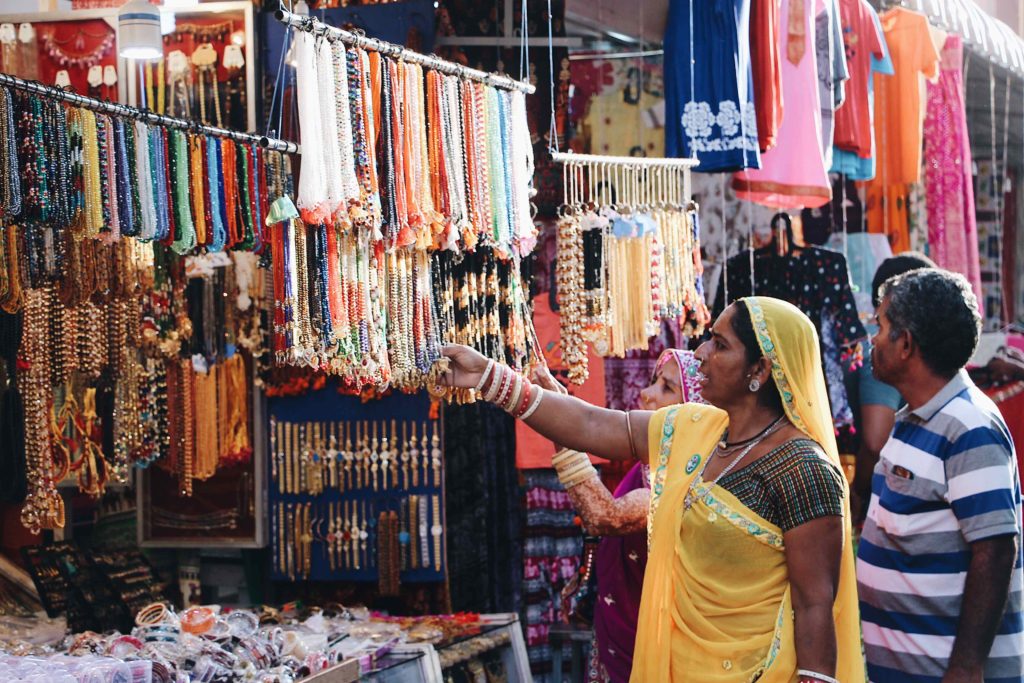 3. Climb To The Savitri Mata Temple For Sunset
Climbing up to the Savitri Mata Temple to watch the sun go down is a must when you are in Pushkar. The climb up is hard (there is a gondola for around 200 rupees return but don't do it unless you have to!) but it's such an experience. You'll be climbing alongside old women in their beautiful saris with their families, inquisitive and cheeky kids looking for a tenner, HEAPS of monkeys and you'll be treated to epic views of Pushkar Lake all the way up.
Once you reach the top walk up the stairs and keep walking forward to the edge and around to the left and find a perch on the rocks to watch the sun go down in between the vast desert mountain landscape.
This is one of the best things you can do in Pushkar hands down! It might be a bit crowded depending on the season but it's busy for a reason and it's India I mean need I say more.
There is a temple you can go inside and a little shop selling chai, drinks and snacks at the top.
4. Make A Visit To Aloo Baba
Aloo Baba is a holy man who lives at a Shiva Temple about 20 minutes from Pushkar. Aloo Baba has lived in this spot for years and all he eats is potatoes, hence the name Aloo Baba. If you go make sure you bring him some!
You can just go and sit around outside and talk to him, drink chai, smoke a chillum, ask questions and see what insights he has for you on that day. When I went there was a big group of Israeli's there (no surprise) taking all of the attention, but it was a really nice place to just be, observe and listen.
The temple and surrounding scenery are also really nice. Plus on the drive there you will go through some small villages and get an insight into how these people live.
Mother India will always have endless lessons in store for you!
You'll need to hire a scooter for this one which will cost you around 400 rupees for the day. You can probably arrange for a tuk-tuk, Ola or Uber to take you there as well.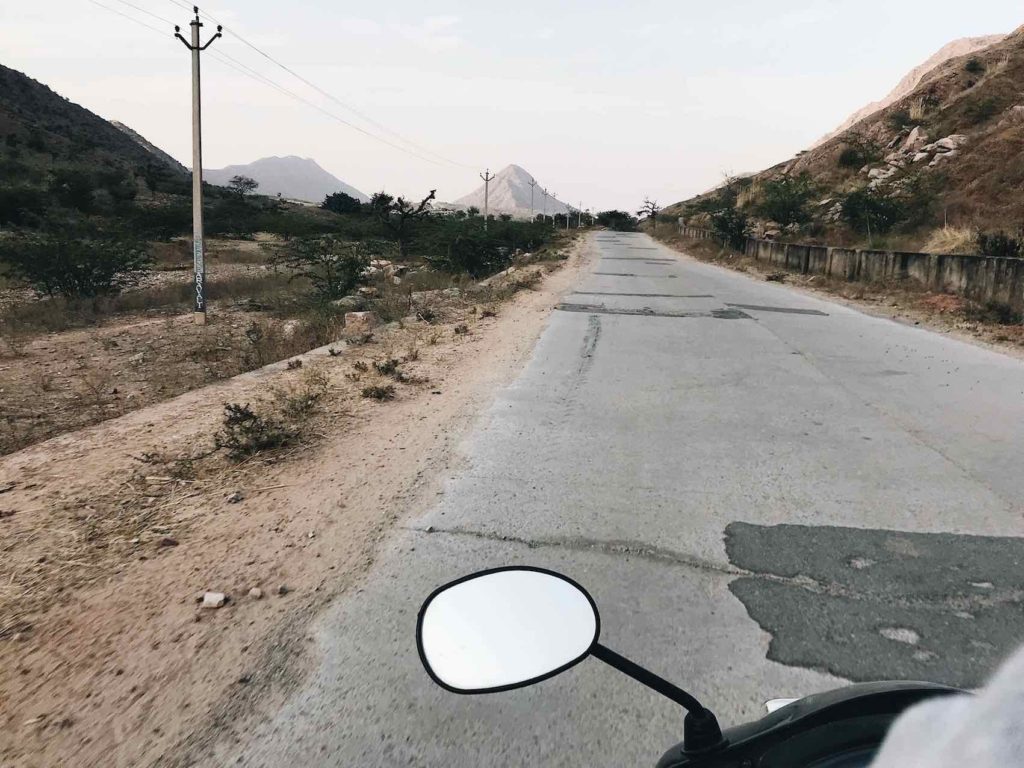 5. Chill Out
This is my favourite thing to do in Pushkar! I became a bit of an expert at it while living in India. It was hard at first to let go of my conditioning to always be busy but once I got into the flow of being present and just enjoying being in the moment I found bliss! I highly recommend it.
There are lots of people in Pushkar who are just there to chill out so it's the perfect place for some Shanti.
Here are some of my personal top picks for places to chill, drink and eat:
Pink Floyd Cafe (best views in Pushkar, go for sunset if you have time)
Deja Brew (amazing coffee & food, chill vibes away from the main strip, vegan options)
Little Tibet (BEST Thenthuk)
Om Shiva Garden Restaurant (Amazing pizza and reasonably priced beer)
Raju Cafe (nice views of the lake, yum budget friendly food and the owner is lovely, vegan options)
Sonu Juice (epic smoothies, directly opposite Raju Cafe)
The chai wala next to the german bakery and the main 'square'. You'll see what I mean when you're there. It's always full and the workers will hassle you to come every time. It's a great place to watch the world go by and meet fellow travellers.
Chow down some Israeli food. Most cafes will serve Israeli food even on the street and it's pretty damn good and well priced! Who doesn't love Tahini & falafel.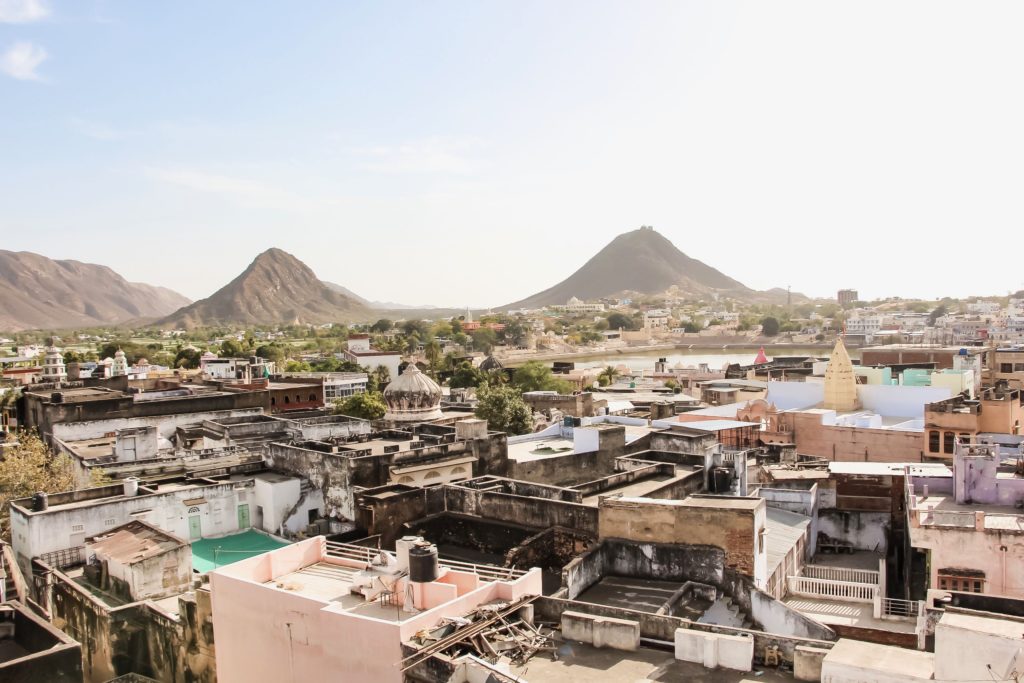 6. Enjoy The 'Specialities'
By specialities I mean bhang. Bhang is an edible preparation of cannabis which originates from India and is usually consumed as a bhang lassi. I'm not 100% sure if it is legal in Pushkar but there are 'government' bhang shops in Ajmer.
On the menu in all the cafes, there will be options for 'special lassi' or 'special dhal' or 'special' almost anything! You will notice that the price is much higher for these special things (at least 200-300 rupees).
So if you're into edibles you'll want to try it out in Pushkar! I had bhang lassi in one cafe and it was pretty tasty, sweet, salty and spicy. I shared it with my parents (lol) so it didn't have too much of an effect!
7. Visit The Brahma Temple
Pushkar is a holy city and for good reason. It is the home of one of only 2 Brahma temples in India. Brahma is one of three gods in the trinity in Hinduism. He is the creator (Vishnu the preserver & Shiva the destroyer, who are both widely worshipped across India). Brahma however, is not worshipped in Hinduism.
There are a number of stories in the Hindu mythology which point to why he is rarely worshipped. One of them is that Brahma's role as the creator is over. It is left to Vishnu to preserve the world and Shiva to continue its path of cosmic reincarnation.
The Brahma temple is the top thing to do in Pushkar by a mile. Thousands of Indian Pilgrims come to this temple every day. Take the opportunity to visit the temple and witness ancient culture and religion still alive and practised today. Take in all the energy that has been created over so many years by the people in the temple!
It is free to enter but you will need to leave your shoes and bags outside. The people in the stalls looking after them will ask for a fee. It is also nice to give some change as a donation to the temple if you'd like when you're inside.
Pushkar itself has over 500 temples, which is crazy considering the size. So if visiting temples is your thing you will have a ball there!
8. Go To Bhajan And Witness The Festivities On The Streets.
One of the coolest things to do in Pushkar is to go to a bhajan. Bhajan is devotional singing, similar to kirtan which you may have heard of. It is always happening in the evening in Pushkar and you will find it by following the noise!
Bhajan here goes on for hours and hours with men singing at the top of their lungs and banging loudly on drums. When I was living there I could hear bhajan going all night every night. It's incredible! The energy that they create is amazing. And don't be shy about joining in, they will love having you there and being a part of their culture!
There are also always crazy parades and festivities going on down the streets, whether it is a festival celebrating one of their gods or a wedding. You will no doubt witness the madness of people dancing like crazy behind an adorned truck blasting a sound system.
These parades are hectic but getting to witness this type of celebration so regularly was the best thing about staying in Pushkar. Never a dull moment.
Tips For Visiting Pushkar
Pushkar is a holy city so alcohol and meat are illegal. You won't find either on any menus in cafes or in the shops. It is possible to buy alcohol from a shop nearby and some cafes will sell it in disguise!
Where To Stay
Pineapple Express Hostel:

I love this hostel, it's probably my favourite hostel in India. It's not a chain this is the only one in India. They have a great outdoor area with grass, volleyball, bonfire, hammocks and table tennis. There's an excellent cafe with the best hummus plate in India! There's also a second cafe up on the roof for breakfast where they hold yoga classes. It's also about a 10 minute walk away from the madness of the main road which is amazing because it's quieter and you're in the farm fields. The vibe that the hosts create is amazing and heaps of cool people stay here, plus they're always taking in volunteers. Bonus they have really excellent mattresses!!

Kanhaia Haveli:

If hostels aren't your thing I can recommend staying at this Haveli right in the centre of town. It's a great location if you have very little time! It's in a really old building with several levels which will give you all the Rajasthan feels. The rooms are nicely decorated but it is still at old Haveli so the bathrooms are more Indian style (don't worry Western seats) and the doors lock only with padlocks but I actually love staying in places like this in India! There is a rooftop cafe and the owner is really friendly and helpful. Don't forget to bargain for the price of your room!
How To Get There
Firstly fly either to Delhi or Jaipur. Pushkar is easily accessible from these two cities. You can also get to Pushkar or nearbby Ajmer pretty easily by bus or train from most cities in Rajasthan like Jodhpur & Udaipur.
Catch a bus from Jaipur (3 hours) or Delhi (8+ hours overnight). Book via Redbus yourself or a travel agent. There are local buses from Jaipur to Ajmer then from Ajmer to Pushkar, you can get tickets from the public bus stand. This is by far the cheapest but will be hot, crowded and take the longest, just make sure you pick the local bus at least once when you're in India
Catch a train from Delhi or Jaipur to Ajmer and then Uber, taxi or tuk-tuk to Pushkar (15 mins and should cost no more than 300 rupees). You can also catch the local bus to Pushkar from the bus stand but it is about a 20-minute walk from the train station.
If you are in Jaipur or some other city nearby you can catch an Uber or Ola for pretty cheap which works out quite well if you are travelling with friends. It will cost around 1500 rupees to go from Jaipur to Pushkar in a taxi.
When To Visit
The best months to visit are between September to March. This is when the weather is much cooler and the rains from the monsoon are over.
It is very challenging to travel to Rajasthan in the months April, May & June because it is unbearably hot. You cannot go outside during the day! July and August it cools down a bit but the rains come. It doesn't rain as much in Rajasthan as other parts of India but the weather gets very humid and it is difficult to be comfortable! It's also much easier to get sick during the monsoon because of the weather. Plus cloudy weather means you won't see all the dazzling sunsets and will miss out on the desert feels!
September to November the temperatures can still be quite high but get much cooler at night time and the weather is sunny and warm so is great for exploring. November to March is winter time and the tempuratures get much colder at night so you will need some warm clothes! Most of the heating in India is by a bonfire (depending on how basic your accommodation is!) so keep this in mind. It is not freezing though so you'll be fine and during the day it's simply perfect!
Festivals
Pushkar is one of the best places in India to visit for various festivals. The first and most famous one is Holi, the colour festival to celebrate the spring harvest. This happens sometime in March, the date depends on the moon. Holi is a big event in Pushkar so expect higher prices but an unforgettable experience!
The Camel Fair or Pushkar Mela is the other major event in the Calendar for Pushkar and this happens every November. There are lots of animals plus next-level parties and entertainment. I haven't been in Pushkar for this yet but can't wait to experience it one day!
Wedding season in India is another great time to go and witness Indian festivities. There are daily wedding parades through the streets, lots of beautiful costumes, horses, dancing and deafening music! Wedding season in January-February.
Withdrawing cash in Pushkar
Withdrawing money in Pushkar isn't always easy. There are only a few ATMs that accept foreign card. There are 2 SBIs which are pretty unreliable and one HDFC which I find to be pretty good although has higher fees and isn't always open. If you can't withdraw cash in Pushkar you may need to make a trip to Ajmer where there are plenty of ATMs.
ATMs usually limit each withdrawal to 10,000 rupees ($140).
Get a prepaid travel card
Get a prepaid travel card before you go and save money on the exchange rate and ATM fees. If you are in the UK, Europe or Australia I recommend Revolut. You can open an app-based account in minutes. Hold and exchange 29 different currencies and spend anywhere with no fees in over 150 countries with a contactless MasterCard or Visa. I have used their online account and prepaid MasterCard for over three years and I love it. I have saved a fortune on fees.
You get £200 of free ATM withdrawals a month (only 2% after that) and the exchange rate they give is the market rate
You also will get individual GBP and EUR IBANs auto-savings, cutting edge budgeting and analytics, which is so useful I even use Revolut for all my transactions at home when I am not travelling.
There is also a Premium plan which offers exclusive card designs, overseas medical insurance, £400 free monthly ATM and unlimited FX transfers.
Revolut has a 24/7 live chat in the app so if you have any issues someone is there to help you with your questions. 
This post contains an affiliate link for Revolut. If you decide to purchase through these links, I receive a percentage of the sale at no additional cost to you
Have I convinced you to visit Pushkar?!
There you have my top 8 things to do in my beautiful Pushkar! I hope this post has given you some inspiration to visit this wonderful gem of a town in Rajasthan. It's rough around the edges for sure but all in the right ways!
Check out my other blog posts on India here!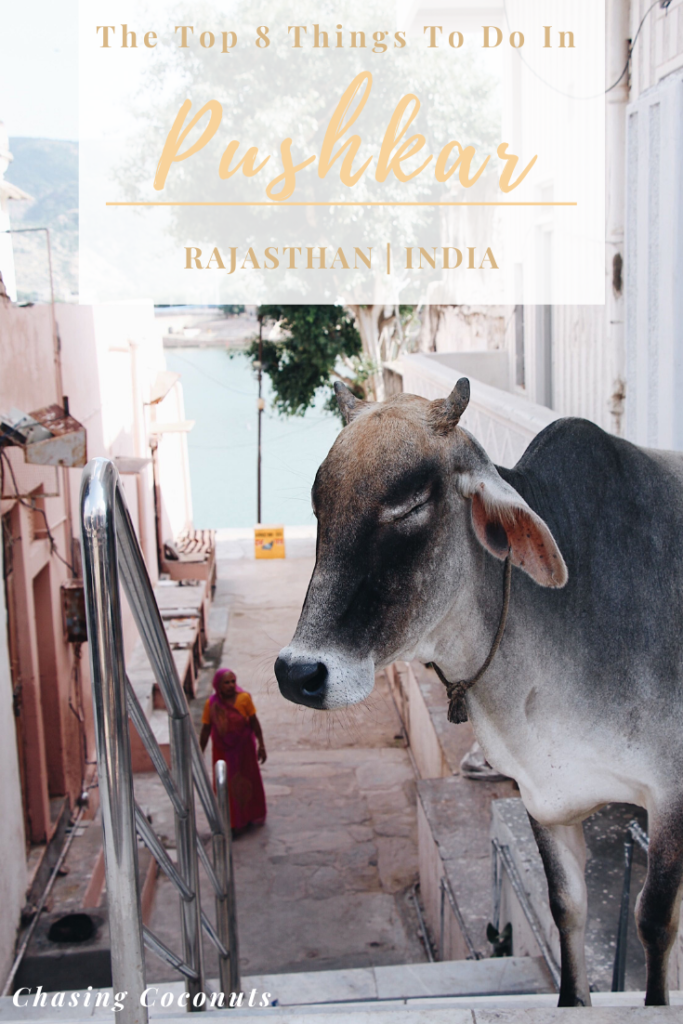 The post The Top 8 Things To Do In Pushkar | Rajasthan, India appeared first on Chasing Coconuts Travel.